The thing that makes our wines unique from other wines is the attention to detail that each wine incurs.  When we say our wines are "handcrafted", we are referring to our ability to check each and every barrel used in production to ensure the finest quality wine ends up in your glass.
Our main goal is to craft each wine individually to represent the true character of the varietal and the terroir of the vineyard.
We do not take short cuts in the wine making process
We make wine for flavor and balance
We leave our thumbprint off the wine in order to showcase the fruit and flavors that are born in the vineyard
Varietals We Produce:
| | | |
| --- | --- | --- |
| Sauvignon Blanc | Malbec |   |
| Chardonnay | Muscat Blanc |   |
| Grenache Rose | Cabernet Sauvignon |   |
| Pinot Noir  | Claret |   |
| Primitivo | Petite Sirah |   |
| Zinfandel | Merlot |   |
| Cuvée |   |   |
At Kokomo we view wine as the sixth food group.  Our goal is to produce wine that is "food friendly" and complements whichever dish it is paired with.   A glass of wine is going to show more depth and complexity when paired with food. 
It is also very important to us that you should be able to enjoy a glass of our wine without food and still be able to taste the fruit, varietal character and nuances the wine offers.
Here's a few great recipe to try with our wines:
Pairings & Recipes
**Valentine's Day Special Chardonnay paired with Lobster Capellini with Leek-Tarragon Cream Sauce**
Gopher Hill Pinot Noir paired with our 2013 Wine and Food Affair tasty creation by Jason Denton of Jackson's Bar and Oven Wild Board Ragu With Cremini Mushrooms and Dried Chrries served over Creamy Polenta 
Chardonnay paired with Summer Corn Chowder
Chardonnay paired with Turkey Shepherd's Pie with Two-Potato Topping
Chardonnay paired with Roasted Chicken Legs with Potatoes and Kale
Cabernet Sauvingnon paired with  Hanger Steak with Green Onion Sauce
Pinot Noir paired with Celery Root & Mushroom Lasagna
Pinot Noir paired with Apricot-Cured Pork Chops
Sauvignon Blanc paired with Black Bean-and-Quinoa Salad
Sauvignon Blanc paired with Arugula Salad with Prosciutto and Oyster Mushrooms
Zinfandel paired with Spicy Pork Po'Boys
Zinfandel paired with Pizza Margherita
Zinfandel paired with Simple Pulled Pork
For some more delicious recipes that use our very own Kokomo Verjus visit us at Kokomo Culinary. 
Food & Wine Tips
How to Match Wine with Food 6 simple tips for successful pairings - Article from the Wine Spectator
Kokomo Culinary: Verjus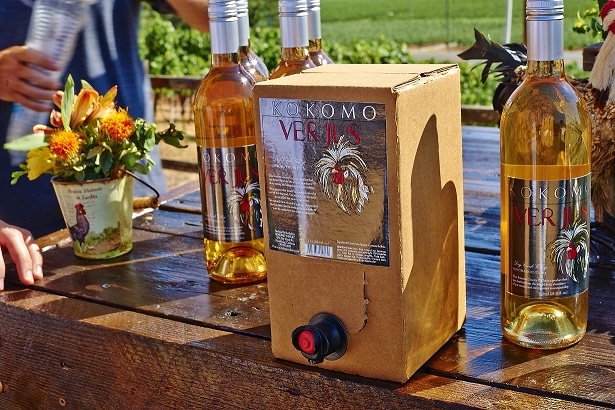 In addition to wine, Kokomo also produces verjus, which is made from the pressed juice of unripe wine grapes, and used as a flavor enhancer in cooking. Wine grapes have an abundance of acidity, which is what makes them so desirable for making world-class wines. This acidity is what allows wine, or any other form of the pressed grape juice, to pair so beautifully with food.

Wine grapes are often thinned from the vines in mid-summer to reduce the crop load, a common practice in cultivating premium quality wine grapes. These thinned grapes are high in acid and low in sugar, and are handpicked from the vine during veraison (the point at which grapes turn from green to purple) to be pressed into verjus. We harvest our wine grapes to produce verjus at the highest point of acidity to make a product that is both flavorful and complimentary to food and wine.

Verjus had a natural acidity and a subtle, tart flavor, and when used in place of vinegar or lemon juice, it brightens a dish by enhacing, rather than competing with, the natural flavors of the fresh ingredients. Verjus adds the touch of acidity to food that helps showcase the farm-fresh quality of the fruits and vegetables you use in your cooking.

For more information about verjus and recipe ideas, click here.